The weather is getting warmer (yay!) and I'm eating so many salads I'm sure that I'll be turning green!  Love them – they are so delicious, fresh, clean and healthy – why wouldn't you eat salad every day.  I cook up a whole packet on quinoa on a Sunday usually, and that lasts me most of the week as a protein source mixed with whatever I have in the fridge!  You can also add some cooked chicken if you like, or a little can of tuna (I do like that I must admit), some lefto
ver lamb, whatever you have – make it easy for yourself.  Here's the one that I had yesterday for dinner – delish!
Quinoa Salad with Thistle Be Good Quinoa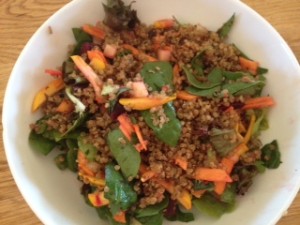 This is one of my favourite meals!  I simply cook up a packet of our     Quinoa (whichever one you fancy – they all work beautifully – I used the Sundried Tomato and Kalamata Olive one) as directed (makes 500gm which is enough to fill a one litre container as it's so fluffy!).
I chop up whatever veggies I have in the fridge – usually raw carrot, raw   zucchini and raw sweet potato, cucumber, tomato, radish and then add to baby spinach and lettuce leaves.
I add however much quinoa I feel like (not too much is required) then mix through.  I also added some orange olive oil and some of the Beautiful Maggie Beers Verjuice – yum.
I also make sure that there are left overs for the next day too – love the leftover lunch!
Feel free to add whatever you enjoy – mushrooms, red capsicum, roasted pumpkin, or avocado, oh yes, don't forget the avocado!  Quinoa Salad rocks!